Shops and Retail
The visibility of your business premises is vital to survival in an increasingly competitive business market. Adding an awning to your shopfront makes your business vastly more visually attractive, which can increase footfall from passers-by, ultimately improving your potential sales figures.
Awnings are also a good way of letting people know where your business is located. An awning can stick out over busy crowds, drawing attention more effectively than a simple sign, and help customers navigate their way to your premises in particularly crowded towns or cities. By sticking out from the front of your shop, an awning can attract the attention of even the most oblivious shopper, who might simply walk straight past normally.
Lights may also be added, helping your store to stick out later in the evening, and seem more inviting and friendly than other shops in the near vicinity.
Awnings also offer a vital secondary function; advertising space. Awnings can be customised to display the colours, logo or name of your business, or any other information you need to advertise to the public. This space is often unused but can create an individual façade for your premises, adding recognisability and a certain wow-factor. By adding your branding to an awning, customers can become more aware of your premises' presence on the high street and help you stand out amongst competitors.
Awnings are also in some cases used to protect stock. Many greengrocers actually choose to display their finest produce at the front of the business, and an awning can offer invaluable cover to these products. If your business could expand onto the street, an awning can help to facilitate this.
An awning also offers shading from the sun, which can help to control and cool the temperature inside the shop in the warmer months. Shoppers will not hesitate to leave a sweaty and stuffy shop, so an awning can create shade to help develop a welcoming and comfortable atmosphere within your shop.
When trading ceases, many of the awnings we supply and recommend can be rolled away, keeping the materials safe and protected overnight, before being easily opened again the next morning. In many cases, this operation is electric, meaning there is no added effort required beyond the push of a button before leaving the premisises.
We offer fixed canopies, dutch canopies, retractable awnings and much more, all of which can help to create an inviting, recognisable and attractive shopfront for your place of business.
For more examples of our installations involving shops please check our case studies, such as the Henderson Connellan estate agents or the B & Q store at the Cribbs Causeway in Bristol. To find out more please give us a call on 01933 448854.

Our Products:
Case Studies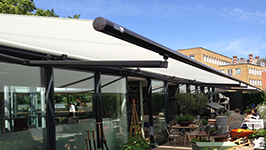 4 no. Markilux 1700 retractable awnings installed at The Conran Shop in Marylebone High Street, London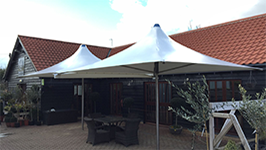 The installation of two Vortex umbrellas helps to make this nursery and garden centre a far more exciting proposition.
This interesting installation at an estate agents in South Leicestershire is a great look at branding and awnings on retail properties