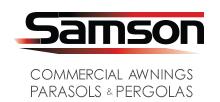 Call us today - 01933 448844
Shading Solutions for Your Business
You will find the solution to your business's shading and outdoor seating conundrum right here. This panel of examples is here to guide you. Alternatively speak to one of our experts for guidance on how to extend your hospitality to more customers. Call 01933 274 276 today!
Know what your looking for?
View our product ranges below for find out more about the vast range Commercial Awnings UK has to offer.

First Impressions - 10/10 Website Navigation - 8/10 Quality of fitting - 9/10
Amongst our installations, we can include pub courtyards, such as the Wig and Pen in Northampton, high street designer shops, restaurants and bistros.
Samson Commercial Awnings
With our extensive range of quality sun awnings from leading brands Weinor, Gibus and Markilux.
Our retractable roof systems, freestanding and combination designed products are the perfect way to protect staff and customers from the elements.
Whether you want to maintain a cool temperature inside your bussiness or increase useable outdoor business space Commercial Awning is the right place for you.
Commercial Awnings UK a leading retailer & installer of premium Awnings, Glassrooms and much more
12-10-2020

An Unprecedented Year... 2020 has been a year of turmoil and unpredictability for many, however one positive to take

21-08-2020

Transform Your Business's Outdoor Space

Now is the time to enhance your unused space outside! The current situation has urgently called for durable shade and
14-02-2018

First Verano Garda Installation

Verano Garda Samson Awnings have recently installed their first Garda glass roof system by Verano! Although this s

30-06-2015

The sheer volume and choice of shading and weather protection for outdoor areas these days is overwhelming for sure, but
Join us


If you have not already registered with Commercial Awnings UK, please click the sign up button and complete the details.