News
The launch of Weinor's Plaza Viva saw the release of an awning with a plethora of new, innovative features that make it a unique and desirable options for outdoor coverage.
Weinor have since announced their Weighted Base for Plaza Viva posts (see left), meaning there are now five options for fixing this awning. The base is convenient for use when the other fixtures are not possible due to whatever structural reasons. The foundation is 500mm in height and typically 500mm on the sides, and can be weighted down with up to 125kg of stones, creating a sturdy and reliable base for the Plaza Viva. Other foundations include deep-seated foundations, screw foundations and concrete plates.
This new addition to the Plaza Viva's options re-enforces the spectacular amount of features that are available, as well as the new components of the awning that make it such a preferable product.
Other features include:
Tempura Quadra: Another new addition to Weinor's collection of additional options, the Tempura Quadra heating system is devised to keep your warm under your awning, and is equipped with modern radiation technology. Creating a cosy and idyllic atmosphere, the system can simply be fitted to the outside of your home to further your enjoyment that is spent outdoors.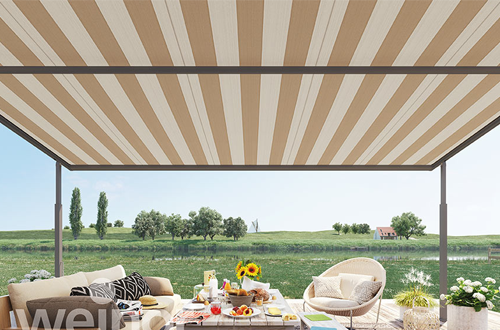 Telescopic Post: If a minimum awning pitch is not possible to install, rainwater can be drained via the NEW telescopic posts; the post is simply lowered using a gear handle.
Excellent Fabric Choices: Weinor's fabric selection allows you to choose from more than 150 fabrics, all with long-lasting properties and with the option to choose plain or countless types of patterns and styles.
Lighting: To further enhance the experience of your Plaza Viva, LED spotlights are available to be fitted, creating a warm, white light that can be dimmed, creating the perfect atmosphere.