Cassette Awnings
Full cassette awnings are the best choice if you need maximum protection for your awning, for example the Markilux 6000. With its three design variations Club, Studio and Lounge it is perfectly adapted to different properties, receiving the reddot award for outstanding design.
However other models of awning across the different ranges also leave nothing to be desired - compact, small and functional, the Markilux 970 impresses with its sleek and modern design. Despite this simplicity, it's still available with various features, including lighting which can illuminate your covered space late into the evening and night, helping customers to stay longer, and the Shadeplus, which is a vertical valance that increases the area of shade and protection provided.
Markilux are also pleased to present their own 'masterpiece', made from brushed, marine grade stainless steel is the Markilux ES-1. It impresses with its fine stainless steel material and elegant lines and contours, whilst looking absolutely stunning in its design and finish overall. Similarly, the Erhardt Q is inspired by the Bauhaus style of design, and is a high-end awning with excellent build quality and excellent features, including inbuilt lighting.
What is a Cassette Awning?
In a Full Cassette Awning, such as the Erhardt J, the cover and the complete arm mechanic are in a full encompassing enclosed aluminium cassette when fully retracted. Therefore wind, weather and dirt do not affect your Markilux awning and the fabric, especially useful during the winter months when not in use. It remains as attractive as on its very first day if handled and managed throughout inclement weather.
Cassette Awnings can be manually operated by using a detachable winding handle or electrically controlled by switch as a basic method or remote control and other devices for easier management. The use of a wind sensor is also recommended for larger awnings in exposed installations to provide safety if the wind speed ever gets too high. The awning will automatically retract if the wind sensor sends a signal and the speed of the wind to send the signal can be adjusted in situ as required.
What colour frame can I get?
A huge number of colours are available, although these will vary depending on the manufacturer that you choose. All of our sales advisors will be able to offer you help and support when picking the most suitable finish to suit your property. Alternativly you can click here to view our colours.
Our Cassette Awning Range
The Designer Awning made of stainless steel
The Cassette Awning with excellent design characteristics - The innovative awning with a wealth of options
The Cassette Awning - Slim, strong and simply stylish
The Cassette Awning with wall seal - The alternative with smooth front profile
The compact Markilux 970 Cassette Awning - Slender, practical and functional
The ever popular Markilux 990 awning, our most popular awning.
Chic, modern and compact - The cover Cassette Awning with perfected design features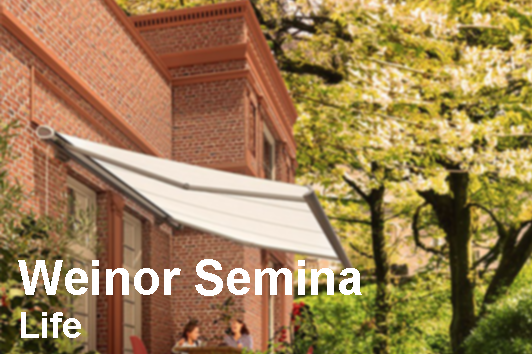 The new Weinor Semina Life, a sturdy yet aesthetically pleasing solution with tons of extras.
The Erhardt C, a classic cassette awning with flexible installation options to suit any need.
The Erhardt C, a proven cassette awning that impresses even down to the smallest details.
The Erhardt K, a small cassette awning with an installation height of just 13cm, meaning it excels on balconies and terraces.
The Erhardt Q incorporates the best in modern awning technology as well as built in LED lighting to really impress.
The Erhardt SD is a high performance cassette awning containing sophisticated technology and a low-profile design.